SmartDrivingCar.com/10.44-ShiftingLandscape-120222
44th edition of the 10th year of SmartDrivingCars eLetter
M. Sena, Nov. 28, ""In all of mankind's history, there has never been more damage done than by people who 'thought they were doing the right thing'." So says Lucy after her friend Charlie Brown reveals that he has replaced her little brother Linus's much nuzzled security blanket in the cartoon series Peanuts by Charles Schultz. This appeared in The Economist November 19th 2022 in an article that commemorated the 100th year of Charles Schultz's birth. He died in 2000 after 50 years and 17,897 cartoons. That, my friends, is dedication. It pays to start early.
I'm not sure if Elon Musk actually thinks he is doing the right thing(s), or if he doesn't really acknowledge the concept of right versus wrong. Some people honestly believe that whatever they do is right—at least for them. Leaving moral issues aside, such as how one as an employer treats fellow human beings who are employees, we can address the issue of whether he is creating or destroying value in companies in which people have given their time and efforts in exchange for a salary, or in which individuals or funds have invested their own or their customers' money. So, once again the seemingly never-ending saga of the Musketeer continues on the pages of the. December issue of The Dispatcher
But it's only one of the stories in the issue. Skip it if you don't care about Musk and his companies. If you care about driverless cars, the first story should be of interest. If you want more info on what China is doing to the Western car industry, there is something in the issue for you. I hope you will all read Musings this month. Not everyone has built a car or written software, but everyone has walked on a sidewalk at some point in their lives. I take you on a sidewalk journey through time and ask you to think about whether you want to have sidewalks to walk on to get some place in the future, or whether you would prefer to have sidewalks that are paid attractions, like rides at an amusement park…." Read more Hmmmm…Continued excellence. Comments are @ ZoomCast 294 / PodCast294 . Alain
---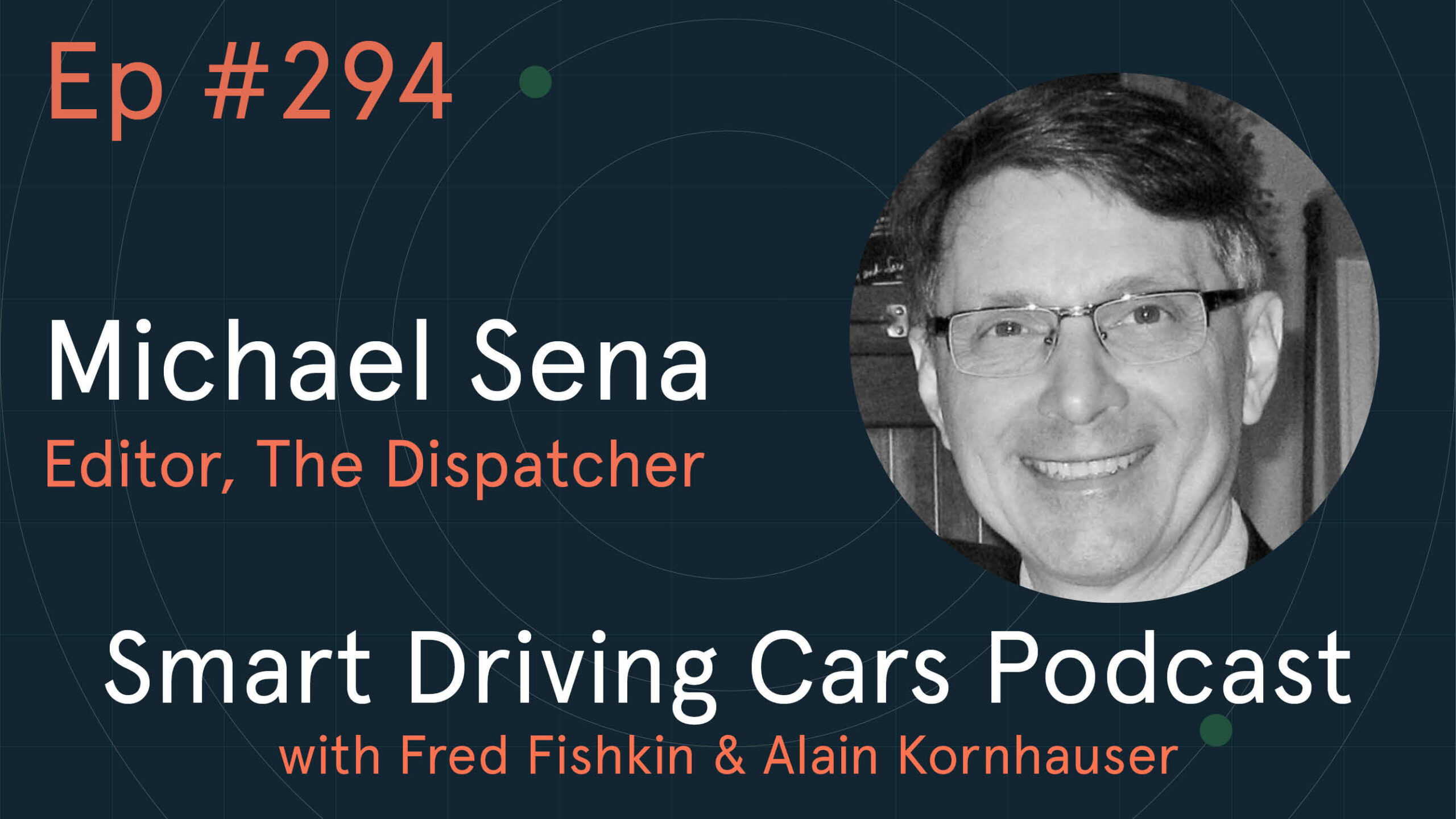 SmartDrivingCars ZoomCast 294 / PodCast294 w Michael Sena, Editor, The Dispatcher
"F. Fishkin, Dec. 2, " With The Dispatcher publisher, Michael Sena, joining Alain and Fred this is a meaty episode 294 of Smart Driving Cars. On the agenda: the driverless car landscape shifts, China's car strategy, is AI really AI, can Tesla make it big in trucking and what is happening to sidewalks? And there's more…in this deep December discussion.
0:00 open 1:00 The Shifting Driverless Car Landscape 15:00 Autonomous mobility companies have gotten the deployment wrong 22:14 Automakers pausing paid advertising on Twitter. Michael's perfect pizza explanation. 31:54 China Inc. Global Automobile Monopoly? 47:17 Cities have forgotten what sidewalks are for 58:43 A most intelligent discussion of Artificial Intelligence. Is there even such a thing? 72:00 Tesla releases FSD update and delivers first Tesla Semis to Pepsi. Can Tesla be a major player in trucking?
fishkin@techstination.com
732-928-4691
Technical support provided by: CARTSmobility.com a 501c3 dedicated to Safe & High-Quality Mobility for All
---

The smartest AI is dumb without people
I. Fried, Dec. 1, "It's easy to see the latest algorithms write a story or create an image from text and think that they are ready to take on a whole range of human tasks. But experts insist that AI systems' growing power makes it more important than ever to keep humans in the loop.
Why it matters: AI-based computer systems are being used to handle an array of increasingly consequential tasks. While machine learning-trained systems do many things well, they can also be confidently wrong — a dangerous combination.
Many of today's most powerful AI systems aim to offer a convincing response to any question, regardless of accuracy.

"If you don't know, you should just say you don't know rather than make something up," says Stanford researcher Percy Liang, who spoke at a Stanford event Thursday
.… " Read more Hmmmm… I agree and have from day one. Certainly, true for Advance Driver Assistance Systems and also true for MOVES-style Driverless Transit Networks. Each of these systems as do the Waymo and Cruise deployments in Arizona and San Francisco have people in command centers overseeing the driverless operation. This necessity of people oversight essentially negates any thought that such driverless cars would ever be sold to us unless the OEM or the purchaser ensured the continuous provision of people oversight. In essentially every tall building a person monitors what the cameras in those elevators are seeing. Stratify, my daughter's company, is singularly focused on creating transparency in FinTech's AI to enable people to stay well in the loop. Alain

Hyundai-backed AV startup Motional cuts workforce
K. Karosec, Dec. 1, "Motional, the Aptiv-Hyundai joint venture developing autonomous vehicle technology, cut its workforce this week — the latest example of layoffs in the AV industry and more broadly in the tech sector.
Employees were told of the layoffs Wednesday, according to sources who asked not to be named because they are not authorized to speak for the company. Motional, which employs more than 1,500 people globally, confirmed the layoffs.
Motional did not confirm the number of employees affected. Sources said dozens of employees were laid off with cuts happening across its operations. Motional has offices in Boston, Las Vegas, Pittsburgh, South Korea, Singapore and several cities in California, including Milpitas and Santa Monica.… " Read more Hmmmm…Yipes! Them too!?!. This is a failure of the deployment strategy and not necessarily the technology. They should be focusing on the best MOVES-style deployment opportunities as opposed to the Sunday supplement click-bait opportunities. Alain

Slow Self-Driving Car Progress Tests Investors' Patience
T. Higgins, Nov. 28, "ter years of ambitious targets and bold promises, investors are growing impatient with the pace of driverless-car development, applying pressure on an industry that had become accustomed to latitude and piles of cash from investors.
Auto makers in recent weeks scaled back plans for the technology amid new pressure to curb expenses during an economic slowdown. An influential hedge fund also has questioned Google-parent Alphabet Inc.'s yearslong effort to advance self-driving technology, an endeavor that has proven thornier than many experts predicted just a few years ago.
Activist investor TCI Fund Management this month sent a letter to Alphabet questioning the company's continued spending on its self-driving unit, Waymo..…
Morgan Stanley analyst Adam Jonas said in October he was no longer assigning any value to GM's Cruise driverless-car business in his valuation of the auto maker's enterprise value.
He told investors he expected GM's losses on the unit—which he currently estimated at $2 billion a year—to possibly double in the next few years. "We believe GM might realize that their investment in Cruise is a 'sunk cost' and should move on," he wrote…. " Read more Hmmmm… Not pretty. Especially the sensible comments from Adam Jonas. These companies have failed in their deployment strategies that chased the few that order champagne & caviar rather than the many that would be happy with two sunny side up with toast and grits that they are actually preparing. Alain

Mercedes Becomes First Brand Approved For Level 4 Self-Driving In Germany (But Only In One Parking Lot So Far)
S. Bell, Nov 30, "Owners of the Mercedes S-Class and its all-electric counterpart, the EQS, will soon be able to step out of their car at the entrance of the P6 parking garage at Stuttgart airport, and let their car park itself.
Mercedes announced today that it has become the first automaker in the world to have its Level 4 automated parking function officially approved for public use by Germany's Federal Motor Transport Authority (KBA). Now it plans to start adding the function to more parking garages around the country…" Read more Hmmmm… This is actually a substantial accomplishment. I'm assuming that if anything goes wrong in that process of parking the car. Mercedes accepts all responsibility. If so, Nice!! Indeed sine this is the first such tangible expression of confidence in the automated driving technology in real applications, it is a real milestone. Unfortunately, it also demonstrates how far we have yet to go to do real "level 4". Alain

Tesla Semi: delivering a disruptive electric truck
F. Lambert, Dec. 1, "Tesla delivered its first Tesla Semi electric trucks to customers and revealed details of its production version of the vehicle – delivering on a 5-year-old promise. Today, the company held its Tesla Semi Delivery Event in Nevada.
As expected, Tesla delivered the first electric trucks to Pepsico, a long-time reservation holder, and held a presentation to reveal more details about the production version of the Tesla Semi.
There wasn't any big surprise during the presentation. Tesla basically delivered on its original promises made in 2017 when it first unveiled the prototypes of the Tesla Semi. Despite the lack of major changes, it's still a big moment since the electric truck has the potential to change the trucking industry for good by eliminating emissions and significantly reducing costs.
The company started out by explaining why it is going from making consumer electric vehicles to an electric class 8 truck. That's pretty simple: even if semi trucks only account for about 1% of vehicles in the US, they account for about 20% of emissions:…" Read more Hmmmm… Impressive. Alain

GM's Cruise Seeks Regulatory OK to Test Shuttle With No Steering Wheel
R. Felton, Nov 30, "General Motors Co.'s GM -0.10%decrease; red down pointing triangle driverless-car unit has requested approval from California regulators to begin public testing of a shuttle that has no steering wheel or manual controls, showing the auto maker's determination to make progress on autonomous vehicles as rivals step back.
GM's Cruise LLC division in August submitted an application to the California Department of Motor Vehicles, requesting permission to test its Origin driverless vehicle on San Francisco streets, according to a copy of the document obtained through a public records request. The California DMV began reviewing the application in late October, according to emails reviewed by The Wall Street Journal as part of the request.
In its application, Cruise said it would begin test runs of the electric Origin in a confined area of San Francisco during limited hours and gradually expand over time…." Read more Hmmmm… Testing the Origin in Trenton or other MOVES-style Driverless Transit Network ODDs would make a lot more mobility and economic sense than testing it is SF! My opinion. Alain

Amid a global driver shortage, this Swedish firm is aiming to put self-driving trucks on the roads
Staff, Dec. 1, "This 40-tonne lorry, barrelling down a Swedish motorway, has a driver onboard but no hands touching the wheel.
Here, veteran truck driver Roger Nordqvist is merely supervising the vehicle in case any problems arise as it drives itself autonomously.
Swedish truck manufacturer Scania is far from the only company developing autonomous vehicles, but it has the distinction of being the first in Europe to pilot them while delivering commercial goods.
"We take their goods from point A, drive them to point B, fully autonomously," Peter Hafmar, head of autonomous solutions at Scania, told AFP outside the company's transport lab in Södertälje, south of Stockholm.
In the pilot project, the self-driving truck is covering a stretch of some 300 km between Södertälje and Jönköping in the south of Sweden, delivering fast-food goods…. " Read more Hmmmm… All about Advanced Driver Assistance than driverless. Absolutely the right approach. Even though the article tries to intertwine the two. Alain

Israel to test self-driving public bus systems in two-year national pilot
Press release, Nov 18, "Israel is set to pilot self-driving public buses for the next two years in a bid to ease the country's notorious traffic congestion and improve services to encourage use of public transportation.
The Israel Innovation Authority (IIA) said Sunday that four consortiums were selected to carry out the trial across the country, starting with the first phase of operating and testing in secured, closed sites and then progressing to autonomous bus lines on public roads, at an increasing range over the two-year period…" Read more Hmmmm… Something, but the focus is Advanced Driver Assistance for bus drivers and not for Driverless operation where the objective is (should be) affordability of high-quality mobility. Alain

Elon Musk's Boring Company Ghosts Cities Across America
T. Mann, Nov. 28, "The unsolicited proposal from Elon Musk's tunnel-building venture arrived in January 2020. To the local transportation authority, it felt like finding Willy Wonka's golden ticket.
Officials had started planning for a street-level rail connection between booming Ontario International Airport and a commuter train station 4 miles away, with an estimated cost north of $1 billion. For just $45 million, Mr. Musk's Boring Co. offered to instead build an underground tunnel through which travelers could zip back and forth in autonomous electric vehicles.
Dazzled by Boring's boasts that it had revolutionized tunneling, and the cachet of working with the billionaire head of EV maker Tesla Inc., the San Bernardino County Transportation Authority dumped plans for a traditional light rail and embraced the futuristic tunnel.
When it came time to formalize the partnership and get to work, Boring itself went underground—just as it has done in Maryland, Chicago and Los Angeles. Boring didn't submit a bid for Ontario by the January 2022 deadline.… " Read more Hmmmm… Not pretty. Alain

Tesla FSD Is Improving With 10.69.3.1
E. Sprague, Nov 25, "My Tesla now seems smoother and more responsive during and after turns. I don't know if this is because of the release note above but it is noteworthy that after making a turn, we're then going the same way as some vehicles that were formerly crossing.
Headlines tend to focus on autonomy and LiDAR but there is much more to the story. Version 10.69.3.1 provides automation but not autonomy. Some feel that the benefits from this technology are all or nothing with respect to autonomy but I disagree. LiDAR isn't essential at this time and we'll continue to find more use cases for this technology as automation keeps coming along iteratively.
There is a big difference between being safe and feeling safe. The Verge reports that Tesla wrote the following to US Senators on March 4th:
Tesla's Autopilot and FSD Capability features enhance the ability of our customers to drive safer than the average driver in the U.S.
I believe that FSD already keeps me safe in many respects but it will feel safer as they continue to improve smoothness and fluidity with future versions. There is still work to be done in this area but I am confident that progress will continue with version 11. Like cruise control, FSD helps with safety by preventing me from driving too fast. It also helps me feel relatively safe when having distracting conversations, whether they're on the car's speakerphone or with passengers.…" Read more Hmmmm… Interesting. Alain

Honda is the latest automaker to bring hands-free highway driving tech to the US
A. Hawkins, Nov. 30, "Honda will bring its hands-free highway driver-assist technology to the US by the end of the decade, making it the latest automaker to offer partially automated driving tech to customers.
Honda Sensing, the company's Level 2 advanced driver-assist system (ADAS), is already available to car owners who have opted to add the feature to their vehicles. Two upgraded systems, Honda Sensing 360 and Honda Sensing Elite, will add new features thanks to more capable sensors and advanced AI software developed by the automaker.
Honda owners in China will be able to purchase the upgraded Honda Sensing 360 system later this year. US customers can option up in the late 2020s, and by 2030, the system will come standard on all Honda vehicles…" Read more Hmmmm… Very nice. More "feet-off" than "hands-off" "Level 2" vehicle automation. Today's "chrome & fins' whetting the appetite of today's car buyers. Alain
Aug. '22. "…". Watch more Hmmmm… Supposedly the linear design is elevator inspired, with high-speed rail replacing the elevator. End2end mobility in 20 minutes means that there is essentially zero mobility (other than walking) between any intermediate locations; else, those high-speed trains would need to stop at those intermediate points. The only people who would ever live in this concept will need to be folks who never want to go anywhere. No nobility system exists that could serve even a minimal amount of people flow. It will also need to be locally self-sufficient because no logistics system exists that could deliver even the most minimal goods movement needs. There aren't nine (9) people on the plane, let alone 9 million ( the population of New Jersey) who would consider this to be an attractive place to live their lives. This is totally goofy. Alain

airport introduces autonomous car hailing service to take people from parking lot to terminal
C. Carlson, Nov 23, "Travelers will be able to use a Mapless AI vehicle to quickly travel from the airport's long-term parking lot to their terminal for a drop-off.
Speaking with The U.S. Sun, Mapless AI co-founder Jeff Johnson said the trial phase will involve a human driver behind the wheel in case of emergency.
When asked how long Mapless AI plans to keep an emergency driver onboard, Johnson said: "This will last as soon as we have confidence that we can remove the driver.
Mapless AI's cars are delivered to the airport's parking lots through a version of driverless technology known as teleoperated driving.…" Read more Hmmmm… Many challenges here without the opportunity to achieve affordability in the long run and double the labor (on board attendant + remote operator) on the front end I'm not a fan. Alain

Labor shortages hinder public transit rebound: APTA report
S. Overman, Nov. 28, "Public transit is slowly making a comeback in the U.S. since ridership declined after the start of the COVID-19 pandemic. Transit systems have surpassed 70% of their 2020 ridership levels, but severe public transit labor shortages are hindering fuller recuperation.
In March, 96% of 190 agencies surveyed by the American Public Transportation Association reported experiencing labor shortages, according to a report released last month by the association. The shortages are most acute at agencies serving large, urbanized areas and agencies with greater ridership. Read more Hmmmm… Why don't they embrace MOVES-like automated transit networks that would really improve their ridership while addressing their driver shortages? Alain
---