SmartDrivingCar.com/10.45-FloridaAV2022-121122
45th edition of the 10th year of SmartDrivingCars eLetter

The 2022 FAV Summit at Omni Amelia Island Resort
Press release, Dec 10, "The Florida Automated Vehicles (FAV) Summit assembles industry leaders from around the world to address technologies, operations, and policy issues. Our mission is to gain insight into what Florida is doing to create the ideal climate for the implementation and deployment of autonomous and connected vehicle technologies.
Topics will include automated, connected, electric, and shared (ACES) mobility, operations, law, infrastructure, functional design, cyber security, ethics, aftermarket products, enabling technologies, and public policy…. Read more Hmmmm… See program. See you there starting this coming Wednesday. Alain
---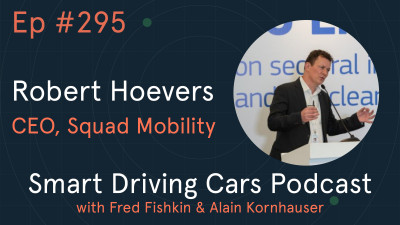 SmartDrivingCars ZoomCast 295 / PodCast295 w/ Robert Hoevers, CE, Squad Mobility
"F. Fishkin, Dec. 11, "Squad Mobility is bringing its solar powered mini vehicle, the Solar City Car to CES next month. CEO Robert Hoevers joins Alain and Fred on episode 295 to show and tell. Plus the upcoming Florida AV Summit, Tesla, the Everyday Astronaut and more. 0:00 open 1:00 Squad Mobility CEO Robert Hoevers 5:23 Deployment potential for Squad Mobility? 11:45 How adding autonomous capability can help 24:40 Florida AV Summit upcoming 29:30 The Everday Astronaut, Tim Dodd, is heading to space 32:10 LA Times on Tesla claiming FSD may be failure but not fraud 38:02 Radar coming to Teslas 38:58 Matt Lowne Steam Train Station animation 42:08 More on Henry Posner and trains assisting Ukrainians 42:43 TRB gets new executive director
fishkin@techstination.com
732-928-4691
Technical support provided by: CARTSmobility.com a 501c3 dedicated to Safe & High-Quality Mobility for All
---
T. Dodd, Dec. 8, "t's true! I have been chosen as one of the members of the incredible dearMoon mission around the moon on SpaceX's Starship rocket. To learn more about the mission and to meet the rest of the crew, visit – http://dearmoon.earth & https://dearmoon.earth/share_crew/tim… And hear more about the announcement from Yusaku Maezawa!!! – https://youtu.be/DKNSlL3Inn8… " Watch more Hmmmm… So deserving! Tim has done so much to make rigorous "rocket science" understandable by non-rocket scientists while maintaining the rigor. For that substance he has been most justifiable awarded this special honor. Life is good! Tim, you most justifiably earned this incredible privilege. Full disclosure… I'm a long time subscriber to Everyday Astronaut. Alain

Tesla says its self-driving technology may be a 'failure' — but not fraud
R. Mitchell, Dec. 8, "The electric car company is facing a class-action lawsuit from Autopilot and Full Self-Driving (FSD) technology customers. They claim they were ripped off, duped by statements from co-founder and Chief Executive Elon Musk and marketing materials from Tesla over the last six years suggesting full-fledged autonomous driving was imminent. No Tesla on the road today is capable of full self-driving, and yet Tesla sells what it calls a Full Self-Driving Capability for $15,000.
In its defense, Tesla lawyers said that "mere failure to realize a long-term, aspirational goal is not fraud." That argument is contained in a motion to dismiss the case that was filed last week in U.S. District Court in San Francisco….
DMV director Steve Gordon has refused to speak with The Times or any other media outlet on the subject of autonomous vehicle regulation for the last two years. Tesla lawyers did not respond to a request for comment. Musk did not answer a tweet seeking comment. Tesla disbanded its media relations team several years ago. " Read more Hmmmm… Hard to understand why Tesla/Elon is refusing to just simply change the name of the system to something that under-promises while over-delivering on that under-promise. As the system improves, Tesla can change the name to something better, yet doesn't over promise.
Tesla should just simply change the name of AutoPilot/FSD to "Tesla's Advanced Driver Assistance System "(Tesla's ADAS)" that requires . the driver to remain attentive and ready to safely intervene..
Consumer Reports and/ or IIHS could set up the "X, Y and Z tests" of ADAS and run them on the various OEM systems: Tesla's ADAS, Mercedes' Distronic "699 package", GM's SuperCruise, Subaru's :EyeSight, Ford's Blue Cruise, ADAS packages from Toyota, Kia, Honda, VW, … whatever they are called… (Naming in the whole ADAS space is so bad!! See… "Driver-Assistance Name Game: What Automakers Call Their ADAS Features". Unbelievable!!)
Test results could then rank the performance of each ADAS ("Level 2+") and award stars. My guess is that Tesla's ADAS would come out on topby a wide margin. Alain

Tesla says it is adding radar in its cars next month amid self-driving suite concerns
F. Lambert, Dec. 6, "Tesla told the FCC that it plans to market a new radar starting next month. The move raises even more concerns about potentially needed updates to its hardware suite to achieve the promised self-driving capability.
Since 2016, Tesla has claimed that all its vehicles produced going forward have "all the needed hardware" to become self-driving with future software updates.
It turned out not to be true. Tesla already had to upgrade its onboard computer and cameras in earlier vehicles, and it has yet to achieve self-driving capability. Its Full Self-Driving (FSD) software is still in beta and doesn't enable fully autonomous driving :…" Read more Hmmmm… Why not!?! It is inexpensive enough and provides independent redundancy for the tracking of moving objects at night and in rain and snow. Alain
M. Lowne, Dec. 7, "Today, I set off to build the greatest Steam Train station that the world ever did saw, and make some friends along the way. This is the first half of, to-be-honest, a bit of a mess of a couple of episodes. And if that doesn't get you hyped, then frankly I don't know what will……". Watch more Hmmmm… For those of us who pioneered the use of interactive computer graphics to visualize and simulate the design and operation of mobility and logistics systems in the 70s, 80s and … the tools and capabilities available today are truly phenomenal. Boy do I wish I had time and talent to extend and play with these tools today. Alain

A New Spin On Rideshare and Carshare -#SDC2022
K. Pyle, Dec. 11, "As 2022 ends, autonomous technology which lowers the costs of and improves the quality of mobility is still just a promise. Fundamentally, technology must serve the needs of those who will use a given mobility solution. By starting with humans at the center of its efforts, Carolina RIDES+ is providing a foundation for understanding how to automate in the future while beginning to serve its goal of "providing transportation to those in need…"
With its rollout of RIDES (Real-time Integrated Data-driven Electric Shared-services), Carolina RIDES+ has begun delivering mobility to those who otherwise could not get to a job, the store, the doctor, or the other places that those of us with a car take for granted. With a goal like the TrentonMOVES effort in New Jersey, Carolina RIDES+, a 501(c)3 public benefit non-profit organization, aims to "provide mobility options, alleviate the financial burden for low-income households, reduce pollution, and boost economic development."…" Read more Hmmmm… Ken, thank you . Alain

Tesla Semi 500-Mile Trip Video Shows Truck May Have Had a Lower GVW Than 81,000 Lb
G. Ruffo, Dec. 8, "In the Semi delivery event, Musk did not answer how much the Semi costs, when other customers will receive their vehicles, how much it weighs, how many trucks Pepsico received, how big the battery pack is, and several other reasonable questions any other truck maker would be willing to solve. In the video, all we see is an accelerated trip. Elon Musk said it had "no jump cuts" and that the entire video would be posted on YouTube. It is not available yet.
It would be great if the original video presented the Semi being weighed, which would make it more believable that it really tipped the scale at 81,000 lb (36,741 kilograms). The footage makes us wonder precisely about that.…" Read more Hmmmm… . Alain
Hopefully this isn't another "Nikola Moment" with these companies faking their accomplishments. But if it is, the sector needs to be chopped even more. Alain

Victoria Sheehan Named New Executive Director of Transportation Research Board at National Academies
News Release, Oct 19, "The National Academies of Sciences, Engineering, and Medicine announced today that, following a national search, Victoria Sheehan will join the organization as the new executive director of the Transportation Research Board (TRB) on Dec. 5, 2022.
Sheehan comes to the National Academies from the New Hampshire Department of Transportation (DOT), which she has led as its commissioner for the past seven years…." Read more Hmmmm… Congratulations Victoria. Well deserved, and thank you Neil Pederson for a great eight (8) years of leadership, especially the last few during Covid. Alain

For Ukrainian Refugees Traveling From Poland to Germany, Henry Posner III '77's Train Awaits
C. Compton, March '22, "On March 12, 2022, Henry Posner III '77 reported for work at 9 a.m. in his trademark bowtie. But on this day, the self-described railway worker donned a reflective safety vest and work boots as he prepared to make history. Just days earlier, a holding company with several railways owned by Posner, called RDC Deutschland, entered into a contract with the German government to help transport Ukrainian refugees from the Polish border to the country's interior.
"Unbelievable, but here we are," Posner wrote in the company's internal newsletter. "History comes at you on short notice."…" Read more Hmmmm… Henry.. . So proud of you! (Full disclosure… my father was Ukrainian). No, we have to again Save the Dinky from a land grab using OPM by you know who. Alain

Autonomous and electric truck company Einride raises $500M in equity and debt
P. Sawers, Dec. 7, "Einride today announced a $500 million tranche of financing as it looks to expand its autonomous and electric trucks into new markets globally.
The cash injection constitutes an equity-based $200 million Series C portion from backers including Northzone, EQT Ventures, Temasek, Swedish pension fund AMF, Polar Structure and Norrsken VC. Additionally, the Swedish company said that it has secured $300 million in debt funding led by Barclays Europe, which will be used substantively to bolster its fleet of vehicles as it extends further into new and existing markets across Europe and North America.
Founded out of Stockholm in 2016, Einride initially developed a cab-less self-driving cargo truck that also can be controlled remotely by human operators if required..… " Read more Hmmmm…. Investment hasn't ceased. Congratulations. Alain

How Uber and Lyft are transforming U.S. cities
"… . On the plus side, the researchers found that TNCs have increased economic growth, employment, and wages for intermittent jobs in U.S. cities.
"However, Uber and Lyft affect different kinds of cities differently, and that is important to understanding their impact," explains Michalek.
For example, TNCs are not a reliable way to reduce car ownership. When TNCs entered U.S. cities, car ownership increased in car-dependent and slow-growth cities, and TNCs displaced transit ridership most in cities with high income and fewer children.
The costs that Uber and Lyft impose on cities are not clear-cut, either. The research reveals that Uber and Lyft can clean the air but clog the streets. Taking an Uber instead of a personal vehicle can reduce air pollution costs by 9 to 13¢, but the extra driving to and from passengers increases costs from congestion, crash risk, and climate change by about 45¢. "You create lower external costs to society when you drive your personal vehicle, on average," says Michalek… " Read more Hmmm … TNCs have improved the Level-of-Service of taxis. Unfortunately, the their opportunity to compete with auto ownership is cost and service limited because of their requirements of a human chauffeur. With car ownership, that element is perceived to be free and available at all times. With TNCs, that's by far THE most expensive element. Game over! Alain
Is it a bus or a taxi? For some small Japanese towns, the answer is both
K. Soble, Dec. 1, "When Satoshi Yamashiro's grandfather founded Arao Taxi in 1953, the city of Arao, in Kumamoto Prefecture, was a growing mining town. Today, the Mitsui Miike Coal Mine is gone — having closed 25 years ago — and Arao is better known for nearby Greenland, a resort complex featuring golf, hot springs and an amusement park.
Arao Taxi is changing too.
For the past two years, Yamashiro and two other drivers at his company have been part of an experiment that is seeking to transform public transportation in rural Japan.
In towns like Arao, where populations are aging and shrinking, and are spread over wide areas, bus and train services are often scarce, but hiring a taxi can be expensive. The result is that many residents — especially senior citizens — end up needlessly stuck at home.
Arao is tackling the problem by creating a hybrid mobility service. Its OMOYAI Taxi program combines the most useful parts of buses and taxis, with some flashy new technology added to make it run efficiently..… " Read more Hmmm… Fantastic, if you can afford the to pay the driver a living wage. Unfortunately, this doesn't scale well. Alain

Self-Driving Taxis Are Causing All Kinds of Trouble in San Francisco
D. Zipper, Dec. 8, ", Dec. 1, "… Based on San Francisco's experience, residents and officials in those cities should brace for strange, disruptive, and dangerous happenings on their streets. And they should demand that state officials offer the protection that California is failing to provide. .… " Read more Hmmmm… Totally negative reporting. If this deployment initiative is really all negative and nothing positive, then "state officials" should shut it down.
It is really unfortunate that this reporting states nothing about the positive aspects of this mobility deployment. For example… high quality mobility is being provided when MUNI fails to operate at all… in the middle of the night; high-quality mobility is provided between locations throughout parts of SF that MUNI doesn't serve at all; … SF simply doesn't seem to appreciate these kinds of mobility improvements.
GM/Cruise should look to deploy in communities where the residents will appreciate the safe, equitable, affordable, sustainable, high-quality mobility that they can offer 24/7/350. Call me! J Alain

Autonomous Trucking's Highway To Broke
J. Giasner, Nov 30, "The highway of startup ambitions is littered with the wreckage of companies that aimed to bring autonomy to the long-haul trucking industry.
Earlier this week, we documented the downward stock market trajectory of Embark Technology, a startup — backed by a host of big-name VCs — that has seen virtually all of its valuation evaporate since going public the past year.
But we'd be remiss to create the impression that Embark is the only high-valuation startup to find obstacles on the road to implementing autonomous trucking. A lot of upstarts devising labor-saving ways to truck goods from point A to point B have found anything but an easy route to market. ..… " Read more Hmmmm…. Not pretty. Alain

Kodiak gets $50 million to develop self-driving reconnaissance vehicles for the US Army
A. Hawkins, Dec. 6 "… The details about the types of vehicles that Kodiak says it will develop for the army are still vague. According to the company, "Kodiak will develop autonomous vehicle technology for the Army to navigate complex terrain, diverse operational conditions and GPS-challenged environments, while also providing the Army the ability to remotely operate vehicles when necessary.".…" Read more Hmmmm… The DoD has invested heavily into many aspects of autonomous vehicle technology over the past 20 years. This $50M is likely targeted to try to " develop one aspect of self-driving …", rather than "develop self-driving …". The lead qualifier is missing from the headlines and its description in the text. This is all good, but be realistic here. The detail/fine print is likely to matter. Alain

Chinese tech giant Baidu to build world's largest fully driverless ride-hailing service area in 2023
Staff, Nov. 30, "… In first-tier cities like Beijing and Shanghai, each robotaxi on Apollo Go can provide 15 rides a day on average, nearly the same daily ride average of typical online ride-hailing car services. .… " Read more Hmmmm…. If "15 rides per day" is the benchmark for productivity, then the deployment of this technology in this manner is neither socially or economically beneficial. Game over. Alain

Podcast: Electrek Car of the Year, Tesla bringing back radar?, FSD failure, and more
F. Lambert, Dec. 9, "This week on the Electrek Podcast, we discuss the most popular news in the world of sustainable transport and energy. This week, we discuss the Electrek Car of the Year, Tesla potentially brining back the radar, Tesla admitting failure to bring FSD to market, and more.:…" Read more Hmmmm… Worth watching. Alain
Squad, World's first Solar City Car
Press release, Dec. 6, "SQUAD MOBILITY presents WORLD'S FIRST SOLAR CITY CAR making her USA debut on the CES Las Vegas. As part of the Dutch delegation, the SQUAD will be on display at the Venetian Expo, Level 2 Hall A-D, Booth nr. 55332.
SQUAD is a compact city car that charges itself on direct solar energy through an integrated solar panel on the roof. The SQUAD will be available in 2024 starting at $ 6250 (ex. tax) and can be pre-ordered now. Pre-orders outside of Europe are free. SQUAD is a Dutch innovation, designed to make solar-powered mobility accessible for everyone.…. " Read more Hmmmm… Interesting. Looking forward to seeing them @ CES Alain

Robo Truckers and the AI-Fueled Future of Transport
K. Levy, Dec. 6, "ECONOMISTS AND POLICYMAKERS are becoming increasingly concerned about the effects of automation and artificial intelligence on employment—including whether some kinds of jobs will cease to exist at all. Trucking is often thought to be one of the first industries at substantial risk. The work is difficult, unsafe, and often deadly and high rates of driver turnover are a constant problem in the industry. As a result, autonomous trucks have become a site of tremendous technical innovation and investment—and some forecasters project that truck driving will be one of the first major industries to be targeted by AI-driven automation.….
This irony creates severe problems for human/robot handoffs in autonomous cars and trucks. So long as humans have some duty to monitor the driving environment—which they do at the current state of the art—humans will almost inevitably do a poor job at accepting the baton from the machine. Does this mean there's no hope for safe autonomous vehicles? Not necessarily. If robots and humans make bad coworkers because of the weaknesses of the human, one solution might be to increase the level of automation even more, obviating the need for short-term handoffs to a human at all. This could create a second model of integration: network coordination…." Read more Hmmmm… Very interesting. Also look at her book Data Driven: Truckers, Technology, and the New Workplace Surveillance, by Karen Levy. Alain
---