SmartDrivingCar.com/11.01-CES 2023-010823
1st edition of the 11th year of SmartDrivingCars eLetter
Hmmmm…. Happy New Year! Welcome to the inaugural issue of the 2nd decade of the SmartDrivingCars eLetter.
Much has remained the same:
There are still 3 distinctive markets for SmartDrivingCars:
SafeDrivingCars:

Those in which the automated function are explicitly designed to not only substantially reduce driver misbehavior by constraining the performance characteristic such as incorporating

speed governors

that only permit excessive speeds in geofenced locations such as

Watkins Glen International

and stretches of the

German Autobahn

, but also automatically intervene to prevent crashes; thus, extending what is done today with

anti-lock brakes

and

electronic stability control

.
<![if !vml]>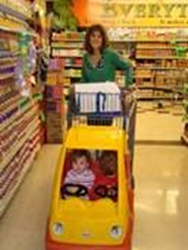 <![endif]>Since the root cause of the vast majority of crashes is driver misbehavior, SafeDrivingCar systems would most effectively achieve public safety aspirations. Unfortunately, there has been essentially no advance in SafeDrivingCars since NHTSA/FMVSS No. 126 Electronic Stability Control (ESC) rule enacted on 09/09/2011. By being silent on mandates, Washington has not made any substantive progress on road safety in more than a decade. We should all be demanding change!
There have been advances in warnings and turn-off-able systems that are largely ineffective at addressing chronic misbehavior such as alcohol abuse, tailgating, texting and road rage. Notable outliers that have proven to be effective are blind spot warnings and rear automated emergency braking (RAEB). Luckily, both of these systems aren't perceived by the buying public to be misaligned with the freedom associated with driving one's own car. These systems are being desired by the marketplace rather than needing to be mandated. Unfortunately, such market forces are not commensurate with speed governors, ignition locks, attention monitoring and texting prevention systems.
What may be even more dangerous is the evolution of visual entertainment systems such as Continental's "pillar2pillar" display. How can a driver pay attention to the road ahead when there is so much to see between the pillars that has nothing to do with driving safely? NHTSA/FMVSS should step in immediately and permit the enabling of these systems only if speed governors, ignition locks, attention monitoring and texting monitoring systems are also engaged. Just look at what has been happening since 2010 wrt highway safety. At some point, some OEMs will really focus on safety and create cars that are as dedicated to safety as this mother.
SelfDrivingCars:

Those which allow the driver for some extended period of time to be "feet-off" the brake & throttle, delivering to the driver substantial comfort & convenience, but also "hands-off" the wheel for shorter periods of time providing a little more

<![if !vml]><![endif]>

comfort & convenience. Absolutely required are "eyes & brain" focused the human task of driving, ready to intervene should the automated driver begin to fail.
As we've expected from the beginning, this form of automation has been embraced by car makers because it is highly desired by car buyers, especially when the "feet-off" and "hands-off" features are promoted without much mention of the "eyes&brain-on" requirement. These features, including intelligent cruise control and automated lane centering, have essentially become standard equipment. More advanced versions such as Tesla's FSD command $15k price tags that are purchased in volume today and whose future inclusion in vehicles allows MobilEye to tout $3.5B in booked revenue, Continental to feature a partnership with Amberellla and nVIDEA to make a major automotive announcement at CES 2023 to supply the continued OEM demand to provide such comfort & convenience capabilities to near and longer-term new car buyers.
DriverlessCars:

Those which serve only passengers and/or good from trip start, through finish. Luckily, the notion that individuals might own such vehicles for personal use and/or be able to "AirB&B" them for others to get from A to B is now realized by essentially everyone as exceedingly naïve. The

Mercedes booth at this year's CES

showed no sign of its

Mercedes Benz F 015 Luxury in Motion | LIVE PREMIERE CES 2015

. Yea!
<![if !vml]>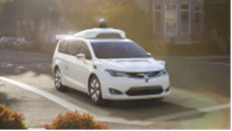 <![endif]>Deployment of fleets of DriverlessCars to move people and/or goods from start to finish has had mixed results. In private settings such as farms, mines, ports and warehouses the capabilities of today's driverless technology is substantively delivering value to OEMs such as Caterpillar and John Deer.
Deployment in public spaces for public uses is at best slow and steady. One of the possible highlights, using remote drivers, is that of Halo.ai whose application is only for the empty repositioning of vehicles in the shared-use car space. I was thoroughly impressed with their application of driverless technology to not move people or goods, but to simply assist in the management of cars to efficiently deliver a shared car to a customer location and to reposition that asset to the next customer. The demands of the driverless system are substantially reduced because there is no one in the car when it is under remotely automated control and that repositioning can be done on the safest road segments and largely at the safest times. Excellent!
I was also very impressed with the Holon vehicle for use in MOVES-style kiosk2kiosk Autonomous Transit Systems. The vehicle is appropriately accommodates shared rides and the disabled community
With respect to moving people in MOVES-style kiosk2kiosk shared-ride Autonomous Transit Systems, I was very impressed @ CES 2023 with the appropriately sized Holon vehicle that is definitely oriented to provide kiosk2kiosk ride-sharing mobility and properly serve the physically disabled community . The smaller GM/Cruise Origin may well be the leading US-made shared-ride-oriented MOVES-style driverless vehicle opportunity; however, I could not find them at CES. A very similar Zoox vehicle was displayed @ CES 2023 and also looks very impressive as a MOVES-style shared-ride and wheel-chair friendly vehicle . The purpose built Waymo vehicle seemed oriented to private ride-hailing and may not be US made. Unfortunately, I wasn't able to have a discussion with anyone @ the Waymo booth to gain any appreciation for Waymo's deployment strategy.
With respect to the movement of goods. There were some interesting "last 50-500 feet" sidewalk solutions such as Ottonomy's delivery robot.
Alain
---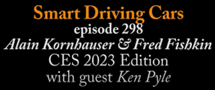 SmartDrivingCars ZoomCast 298 / PodCast298 w/ Ken Pyle CES 2023 & Start of 2nd Decade of SDC eLetter
"F. Fishkin, Jan. 8, "CES 2023 brought out crowds and innovation once again. The Smart Driving Cars team, with Alain Kornhauser, Ken Pyle and Dr. Elizabeth Monroe, caught up with Halo.car, Stradvision, Zoox and more. With videos courtesy of Viodi, Alain joins Fred Fishkin for a look as the Smart Driving Cars newsletter begins its second decade. 0:00 open 1:04 Smart Driving Cars Newsletter enters second decade. Where we've been…where we are. 12:30 Mobileye at CES 14:29 Safety capabilities of vehicles aren't being utilized 18:08 Caterpillar and John Deere impress 23:30 interview with Halo.car remote vehicle repositioning 41:30 discussion of Halo.car value 46:30 The Boring Company and a little history from Alain 55:30 Stradvision interview 1:04:00 Zoox Interview 1:15:00 Upcoming TRB conference"
fishkin@techstination.com 732-928-4691
Technical support provided by: CARTSmobility.com a 501c3 dedicated to Safe & High-Quality Mobility for All. Tax-deductible donations are most appreciated @ Support CARTS' mission to provide safe & high-quality mobility for all
---

Save the Date: 6th Annual Princeton SmartDrivingCar Summit:
Tuesday
Evening, May 23 -> Thursday 5pm, May 25, 2023
*******************************

To All Friends and Alumni
of
Princeton University's Transportation Program
You are cordially invited to attend the
51st Annual
Princeton University Transportation Program Reunion Banquet
in conjunction with the 102nd annual
Transportation Research Board (TRB) Meeting in Washington, DC
(Yes, one of these for half of TRB's annual meetings. Done this for all of 'em 😊)
TUESDAY, January 10, 2023
You Must RSVP (click ->) princeton.edu?subject=I'll%20be%20@%20the%2051st%20Princeton%20TRB%20Reunition%20Banquet%20">Acceptances by EoD Monday, Jan. 9
Cash bar social begins at 6:00pm followed by complimentary dinner at about 6:45pm.
You are most welcome to bring a guest and feel free to invite other alumnae, friends or SmartDrivingCar enthusiasts. Dress is business casual.
Same Location!!!
Tony Cheng's Seafood Restaurant
Located at 619 H Street, N.W. 2nd Floor
Phone: (202) 371-8669
Conveniently located near the Convention Center.

Looking forward to seeing you!
All the Best for 2023
*******************************

Zoox – Slow and Steady Road to Autonomy – #CES2023
K. Pyle, Jan 7, "Paul Escobar, Senior Public Policy & Safety Strategy Manager for Zoox describes Zoox's fully autonomous, electric passenger vehicle. In the above video, he explains that it is designed specifically around the needs of human passengers. It is intended to operate sustainably, with a single charge lasting up to 16 hours in a dense urban environment. The Zoox fleet will be owned and operated by the company, with passengers able to hail a ride rather than purchasing their own vehicle…." Read more Hmmmm… Impressive!! J Alain

The Puppy Dog Rental Car – A Bridge to Autonomy
K. Pyle, Jan 7, "Once upon a time, an enterprising car rental business shook up the car rental industry by delivering the vehicle to the customer. It was no longer necessary for the customer to find someone to give her a ride to an often inconveniently located car rental lot across town.
With this model, the car rental lot could be located virtually anywhere. This meant it would no longer have to be located on expensive an on-site car rental lot. Presumably, the cheaper land would make up for the added expense of sending two cars and two employees to each customer's location.…." Read more Hmmmm… This is a substantive deployment of remote driving. Alain

Self-driving taxi company launches service in Austin
Staff, Jan. 6, "Driverless cars are on the roadways of Downtown Austin and Central Austin.
It's part of service similar to Uber called Cruise LLC. They are based out of San Francisco and recently launched here in Austin and Phoenix. The vehicles are Chevy Bolt electric vehicles.
"Fully driverless vehicle, so this means a car comes to pick you up and has no driver. It's completely empty, and you open it using our app and get in, it takes it to your final destination. Cruise cars are equipped with dozens of lidars, radars, cameras and other sensors that create a dynamic 360 view of the world around it. The vast data from the sensors feed the AI brain that is powering the cars," said Megan Prichard with Cruise LLC…" Read more Hmmmm… Congratulations on another step forward!! J Alain

ZF Partners With BEEP To Bring Robo-Shuttle To Market
J. Sensiba, Jan. 7, "As the autonomous vehicle industry progresses, we're starting to see fewer traditional cars and more cars that are designed around not having a driver. Instead of a car where everybody faces the same way and it's designed to look cool, the goals have changed. Ease of access and spaciousness, along with safety and cost-effectiveness, are the new goals. Plus, with urban mobility being the main goal, even aerodynamics are falling by the wayside a bit (because low-speed vehicles don't need to cut through the air).
At the 2023 Consumer Electronics Show (CES) in Las Vegas, Nevada, ZF proudly presents its next-generation shuttle for autonomous driving in congested cities and busy roads. This successor to its current model — developed mainly for use in dedicated lanes — benefits from an alliance with Beep, Inc., the leading US-based mobility services provider…." Read more Hmmmm… This vehicle looked to me @ CES_2023 as a much larger follow-on to the 2GetThere Mazda PRT vehicle. J Alain

Tesla Comments on Price Cuts, Cybertruck Giga Press Update, Tesla Insurance
R. Maurer, Jan 6, " ➤ Tesla VP comments on price cuts in China ➤ Market reacts to price cuts ➤ Reviewing Tesla prices over time ➤ IDRA shipments arrive at Giga Texas ➤ Tesla Insurance update …." Read more Hmmmm….. Interesting. Alain

Tesla driver intentionally drove car off a cliff with family, but everyone miraculously survived
F. Lambert, Jan. 4, "A Tesla driver intentionally drove his car off a 250-foot cliff in California with his family inside, according to the police, but everyone miraculously survived without serious injury.
On Tuesday, it was reported that a family of four was rescued from a wrecked Tesla vehicle found at the bottom of a cliff known as Devil's Slide in Northern California.
As of yesterday, the news was that all four occupants of the Tesla Model Y managed to not only survive the massive crash but also even reportedly didn't suffer any serious injury…." Read more Hmmmm….. So bad!! Alain

PennDOT Assisting Autonomous Transit Vehicle Pilot Test
Editor, Jan. 6, "The testing involves a mid-size electric autonomous shuttle bus shutting passengers from the Philadelphia Navy Yard to the Southeastern Pennsylvania Transportation Authority's NRG Station through the spring of 2023.
This marks the first autonomous vehicle or AV testing of its kind on Pennsylvania's roads since former Governor Tom Wolf (D) signed legislation in November paving the way for commercial AV testing and deployment…." Read more Hmmmm… Hasn't testing of AVs with attendants been going on in Pittsburgh for some time now? Whatever, Pennsylvania is ahead of New Jersey. Or is it??? nVIDIA was testing AVs in New Jersey with attendants behind the wheel more than six (6) years ago. J Alain

Micromobility: Data Challenges Associated with Assessing the Prevalence and Risk of Electric Scooter and Electric Bicycle Fatalities and Injuries
Safety Research Report SR R2201, Nov 14, "Abstract: This safety research report examines the data collection and analysis challenges associated with two of the most common types of micromobility devices: electric scooter s (escooters) and electric bicycles (escooter and ebikes). To do this, the National Transportation Safety Board (NTSB) conducted a scientific literature review; held discussions with subject matter experts; performed an independent analysis of ebike cr ashes, fatalities, and injuries in the United States between 2017 and 2021; assessed escooter and ebike injury coding; and reviewed the Infrastructure Investment and Jobs Act, which contains new requirements about collecting data on vulnerable road users , such as escooter and ebike riders.
The NTSB identified the following safety issues: (1) the need to add escooter and bike device codes to police crash data and guidance, (2) the need for ebike specific coding in injury surveillance data and guidance, and (3) the need for bike trip data to assess injury and fatality risk. The NTSB also examined the complexities of using collected data to conduct safety research on escooters and ebikes.
As a result of this safety research, the NTSB m akes new recommendations to the National Highway Traffic Safety Administration, the Federal Highway Administration, the US Consumer Product Safety Commission, the National Center for Health Statistics, and the Governors Highway Safety Association…." Read more Hmmmm… Very interesting. Alain
---
---