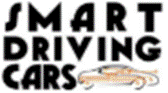 SmartDrivingCar.com/11.04-WorkVehicles-012423
4th edition of the 11th year of SmartDrivingCars eLetter

Driverless Work Vehicles: On This Side of the Horizon
M. Sena Jan. 27, " Land-based robots are already on wheels WHEN WE THINK of driverless vehicles, our mind's eye tends to drift toward the horizon where we see ourselves at some point in the future being chauffeured around by an artificially intelligent robot in the form of a passenger car. I think it's time to direct our sights toward solutions which are much closer at hand: driverless work vehicles (DWVs). I believe this is where we should be focusing our money and attention. The first image that pops into my head when I think of DWVs is a Zamboni,1 gliding around the Boston Garden ice hockey rink without a driver, smoothing the ice surface in between periods while organ music and the aromas of hot dogs and beer filled the air. I've never seen a driverless Zamboni, but how difficult can it be to build one? I remember reading about super-large KOMATSU driverless dump trucks lumbering in and out of mines with no front or back to them. They're already operating. …" Read more Hmmmm… Another most well written and insightful newsletter focused on the work vehicle market… vehicles that contribute to the provision of goods or services by moving around. Listen/watch our Pod/ZoomCast 301 Alain
---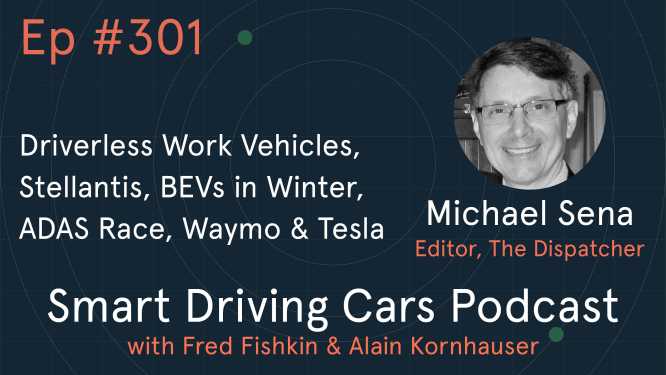 SmartDrivingCars ZoomCast 301 / PodCast 301 w/Michael Sena, Editor of The Dispatcher
"F. Fishkin, Jan.27, " Driverless work vehicles advance while driverless passenger cars seem stalled. The Dispatcher publisher Michael Sena joins Alain and Fred on episode 301 of Smart Driving Cars for that, plus Tesla rebounds, Ford's Blue Cruise impresses and more. "
0:00 open
1:00 Driverless Work Vehicles discussion
20:45 Stellantis Reaching for the Data Star
23:27 Winters can be cold, EVs like it hot
36:11 Tesla earnings, news and rebound
38:39 Layoffs hitting Waymo? And other tech companies too.
47:30 Ford's Blue Cruise top rated by Consumer Reports in active driver assistance
fishkin@techstination.com 732-928-4691
Technical support provided by: CARTSmobility.com a 501c3 dedicated to Safe & High-Quality Mobility for All. Tax-deductible donations are most appreciated @ Support CARTS' mission to provide safe & high-quality mobility for all
---

Save the Date:
6th Annual Princeton SmartDrivingCar Summit:
Tuesday Evening, May 23 -> Thursday 5pm, May 25, 2023
*******************************
M. Montcello, Jan 25, "It's equal parts eerie and amazing to experience

Ford

's BlueCruise hands-free driving feature, as it takes over your car's steering, braking, and acceleration while you travel down the highway.
The eerie part is watching the steering wheel turn back and forth on its own, making micro-adjustments to keep the car in the center of its lane, while the system also slows down or speeds up to maintain a safe distance from the vehicle ahead. The amazement soon follows: With your hands off the wheel and relaxing on the armrests as the automated systems take charge, you might start to believe that the age of the self-driving car is finally upon us.
But while BlueCruise's capabilities are impressive and can make driving more relaxing, cars that can truly and safely drive themselves remain a long way off.
BlueCruise is what's known as an active driving assistance (ADA) system. In the simplest terms, ADA is the simultaneous use of a car's adaptive cruise control (ACC) to control speed and lane centering assistance (LCA) to control steering. ACC is an advanced form of cruise control that brakes or accelerates to keep the car a set distance from vehicles traveling ahead of you in your lane. LCA provides steering support to keep the vehicle at or near the center of the lane…. " Read more Hmmmm….. Impressive. Alain
Stock Rockets After Q4 Earnings Report
R. Maurer, Jan. 26, " Tesla stock rallies after Q4 earnings report ➤ Recap of key points of emphasis from the earnings report ➤ Tesla discloses new credit line ➤ Motor Trend covers Tesla Semi: Read more Hmmmm….. Impressive. Alain

Tesla Q4 Earnings Call 2022 (TSLA)
R. Mauaer, Jan 25., "Listen to Elon Musk and Tesla management discuss Tesla's Q4 2022 financial results and answer questions from investors and analysts. Join Rob Maurer of Tesla Daily for a live blog highlighting key information, followed by reaction to the call and earnings report. "
0:00 Elon opening remarks 7:53 CFO Zach Kirkhorn opening remarks 11:19 Investor questions 30:15 Analyst questions 1:02:29 Recap and analysis Watch more Hmmmm… Worth listening to. Alain

Waymo Lays Off a Number of Employees As Autonomous Tech Hits Roadblock
Andy Kalmowitz, Jan 26, "Waymo, a self-driving tech company, has reportedly laid off a "limited" number of employees this week. Automotive News reports that the company didn't disclose just how many people were laid off, but the cuts do seem to be coming from multiple departments.
The news comes during a tough time for the autonomous vehicle industry and the tech sector as a whole. Waymo's parent company, Alphabet, laid off 12,000 people at Google this week.…." Read more Hmmmm… Unthinkable 12 months ago. See also Rebecca's reporting: "Waymo lays off staff as Alphabet announces 12,000 job cuts" Alain

Volvo invests in Toronto driverless vehicle startup Waabi
S. Silcoff, Jan 18, "Volvo AB's venture capital arm has invested an undisclosed amount in Toronto autonomous-vehicle startup Waabi Innovation Inc…
Prof. Urtasun, a University of Toronto professor renowned as one of the leading researchers in the field, was previously chief scientist at Uber Technologies Inc.'s self-driving division. She left with most of her 40-person team in early 2021 to start Waabi after U.S. autonomous-vehicle startup Aurora Innovation Inc. bought the unit. Both Uber and Aurora invested in Waabi, alongside U.S. and Canadian venture capitalists and AI luminaries including Geoffrey Hinton, when it raised US$83.5-million two years ago…. " Read more Hmmmm….. Excellent. Finally some good news in this space. Alain

Will We Blame Self-Driving Cars?
J. de Freitas, Jan. 26, "One of the challenges facing the industry is trying to estimate how much liability AV firms will have for accidents involving their vehicles. In the U.S., makers of driver-assistance technologies that are installed in most newer vehicles have already faced a stream of accident-related lawsuits for issues such as defective steering sensors and camera misalignments. As fully autonomous vehicles become more common, they will inevitably be involved in accidents.
Typically, when a human driver is involved in an accident for which they are not at fault, neither the driver nor the manufacturer of the vehicle is at risk for liability. A key question for AV manufacturers and insurers is whether AVs will be treated the same way. When an AV is involved in an accident that it didn't cause, who will be held responsible?..
But they were more likely to say that the manufacturer of the not-at-fault vehicle should be sued when the vehicle was an AV than when it was human-driven…" Read more Hmmmm….. What??? Wrong premise! What is essentially certain is that the AV will have a data stream that will, in most cases, be overwhelming evidence as to who is "at fault". While there may be some high profile suits early-on, these will quickly disappear once the hard evidence overwhelms the he-said, she-said finger pointing. Alain

Tesla announces $3.6b Semi, 4680 battery factories in Nevada but questions abound
F. Lambert, Jan. 24, "Tesla has officially announced its expected new battery and Semi factories in Northern Nevada, along with $3.6 billion in investment to make them happen. But are these actually new factories, or simply the completion of Gigafactory Nevada to its originally planned size?
Earlier today we reported on the Nevada Governor hinting at plans for Tesla's new factory, which were expected to be officially unveiled today. Tesla has now put up a blog post describing its progress with its previous investments in Nevada and the plans for this new investment.
Tesla says that it has already spent $6.2 billion in Nevada and hired 11,000 employees, while creating 17,000 local construction jobs building out its Gigafactory there, and that the factory has produced:
.…." Read more Hmmmm….. Really only a drop in the bucket in terms of what is needed. Alain

Tesla (TSLA) releases Q4 2022 results: beats earnings and misses on revenue
F. Lambert, Jan. 25, "… " Read more Hmmmm….. Sounds like a double win. Just sayin' J. Alain
---