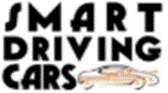 SmartDrivingCar.com/11.09-UltraCruise-030823
9th edition of the 11th year of SmartDrivingCars eLetter

GM Announces Ultra Cruise, Enabling True Hands-Free Driving Across 95 Percent of Driving Scenarios
Press release, March 6, "Today, General Motors unveiled Ultra Cruise, an all-new, advanced driver-assistance technology and significant next step in the company's journey to enable its goal of zero crashes, zero emissions and zero congestion. Designed to ultimately enable hands-free driving in 95 percent of all driving scenarios, Ultra Cruise eventually can be used on every paved road in the U.S. and Canada.
Ultra Cruise will cover more than 2 million miles of roads at launch in the United States and Canada, with the capacity to grow up to more than 3.4 million miles. Customers will be able to travel truly hands free with Ultra Cruise across nearly every road including city streets, subdivision streets and paved rural roads, in addition to highways.….
GM's two hands-free advanced driver-assist systems will coexist in the company's lineup with Super Cruise available on more mainstream vehicles and Ultra Cruise reserved for premium entries.
"The combination of Ultra Cruise for premium offerings and Super Cruise for lower-cost products will enable us to offer driver-assist technology across price points and segments," said Parks….
Always pay attention while driving and when using Ultra Cruise and Super Cruise. Do not use a hand-held device. …. " Read more Hmmmm….. Very interesting. High-end and includes LiDAR See ZoomCast 307 / PodCast 307 and Andrew Hawkins' "GM's Ultra Cruise will use radar, camera, and lidar to enable hands-free driving", below. Alain
<![if !vml]>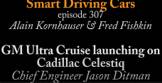 <![endif]> SmartDrivingCars ZoomCast 307 / PodCast 307 w Jason Ditman, Chief Engineer GM
F. Fishkin, March 7, "GM says Ultra Cruise will arrive with the 2024 Cadillac Celestiq and will ultimately enable hands free driving in 95 percent of driving situations. Ultra Cruise chief engineer Jason Ditman joins Alain and Fred for episode 307 of Smart Driving Cars. He tackles the tough questions and issues. Plus Cruise Robotaxi unit cutting costs, NHTSA probing Zoox self certification and Embark winding down.

0:00 open
0:40 GM Ultra Cruise Chief Engineer Jason Ditman introduction
1:55 How did development go during Covid?
4:32 Announcement that Ultra Cruise will first arrive on 2024 Cadillac Celestiq
8:45 Alain comments on Super Cruise 9:50 How does Ultra Cruise availability figure into route planning
13:40 Why is hands off is important and not feet off 16:45 If using intelligent cruise control…why does it disengage when brakes are tapped?
25:29 System is separate from automated emergency braking…how do they talk to each other
28:43 Response to Missy Cummings headlines that people using automated systems involved in crashes were speeding more often than people driving without automated systems engaged.
33:24 GM Cruise says focused on cutting costs this year according to Reuters
37:25 NHTSA opens probe, reportedly, into self certification of the test procedures at Zoox
41:08 Embark winding down operations, laying off most employees
44:41 Kudos to GM Ultra Cruise team
49:24 Here comes Alain's spring break
******************
ITU 2023 Future Networked Car Symposium
13-16 March 2023
Virtual Event
Session 2: Using Automotive Artificial Intelligence to Improve Vehicle Safety, Services and Transport Management
14 March – 13.00-16.00 CET
******************

GM's Ultra Cruise will use radar, camera, and lidar to enable hands-free driving
A. Hawkins, March 7, "… In its first major update since announcing Ultra Cruise in late 2021, the automaker outlined several of the sensors that will power the driver-assist system, including cameras, short- and long-range radar, and a lidar sensor. The vehicles will also come with an all-new computer to process the data input from the sensors, which the automaker previously indicated would include Qualcomm's new Snapdragon Ride Platform.
Meanwhile, Morgan Stanley analyst Adam Jonas was more bullish on Tesla Thursday. Jonas wrote Thursday the "non-unveil" of a new cheaper Tesla model shouldn't have disappointed people. "Imagine you just placed an order for a $50k Model Y and Tesla tells you there will be a slightly smaller version for half the price with enhanced capabilities available soon," Jonas wrote. "From a commercial standpoint, maybe not the best strategy."…
Despite its enhanced capabilities, GM says it still considers Ultra Cruise a Level 2 system, as defined by the Society of Automotive Engineers. At Level 2, the vehicle can control both steering and acceleration and deceleration as well as monitor blind spots and even change lanes automatically. But the driver needs to stay vigilant and keep their eyes on the road; if they don't, the vehicle's infrared sensors will detect it, and the system will send several warnings to the driver before disengaging. …" Read more Hmmmm….. and requesting a note from one's mother before being able to turn it back on.?? 😉 Good description Alain

Elon Musk says Tesla's next vehicle will operate 'almost entirely in autonomous mode'
F. Lambert, March 7, "Elon Musk commented on Tesla's next car, saying that it will operate "almost entirely in autonomous mode," but the automaker has yet to deliver on its promise to make all its cars made since 2016 autonomous.
While Tesla unveiled its plan to build a new vehicle platform that will be more efficient to manufacture at its Investor Day last week, many were disappointed that Tesla didn't go into details about the vehicle models that will be based on this new platform.
During a brief appearance at a Morgan Stanley conference today, CEO Elon Musk briefly commented that the vehicles to be built on Tesla's next-gen platform will operate "almost entirely in autonomous mode."
He made it sound like humans will only rarely have to be behind the wheel of the vehicle.
That's in line with what he previously said about Tesla planning to bring a new purposed-built "robotaxi" electric vehicle to production.:…" Read more Hmmmm….. Wow!! Wouldn't that be fantastic! Alain
<![if !supportLists]>

<![endif]>The CEO of Zoox talks self-driving cars
March 7, "Aicha Evans speaks to Julia Chatterley about their robo-taxi". .:…" Read more Hmmmm….. Maybe they'll see the virtue in doing Trenton-MOVES??? Alain

GM's Cruise to focus on cost cuts as it ramps up robotaxis
A. Roy, March 6, "General Motors Co's (GM.N) robotaxi unit Cruise is focusing on cutting costs this year, a top executive said on Monday, as mounting losses in the autonomous vehicle companies have sparked investor concerns and forced some to shut shop.
"We'll continue to look at hardware, software – both in terms of component costs as well as the quantity of components that are on the vehicle – and continue to drive cost out as we move forward," Cruise's chief operating officer Gil West said at a technology conference. At Cruise, General Motors burned through nearly $2 billion last year. West did not give details of spending estimates this year…" " Read more Hmmmm. Seems to me that the best way to reduce cost is to scale rapidly. In the mobility business, it is the cost per ride that is important. In the driverless mobility business, just like ele-vators, the variable cost of horizontal mobility, h-vator mobility, becomes only fuel and maintenance. The capital cost of the vehicle gets distributed over the vehicle's productivity in giving rides. Getting to something like 100 rides/day leads to a fairly attractive cap cost per ride (<$1.00 per personTrip per $100K vehicle cost). We also know that with volume, sensors and actuators have nice volume pricing behavior and software is largely a fixed cost. At scale, no way these vehicles cast more than $250k.
So a really good way to reduce costs is to get big, fast. An efficient way to do that is to deploy in mobility markets for which one's solution ranks high for many trips for some customers; thus, engendering customer loyalty. This certainly reduces customer acquisition costs per ride. Finally, if those customers can share rides, then the opportunity to hit vehicle productivity levels around 100 personTrips/vehicleDay can make the cost/ride such that Cruise can price rides so as to readily cover the cost/ride and contribute handsomely to share holder value.
To borrow a recent quote… the demand for cruise rides is "infinite", the challenge is to offer the rides in markets that are sufficiently concentrated with potential customers where the ride's affordability is an important component of customer mode choice. Alain

Autonomous Trucking Upstart Embark Goes From $5B Valuation To Kaput In 16 Months
J. Glasner, March 6, "Autonomous trucking startup Embark Trucks capped off one of the faster riches-to-rags stories of the SPAC era, announcing that it is laying off most employees and winding down operations. In a Friday email to employees, CEO and co-founder Alex Rodrigues wrote that "after thoroughly evaluating all alternatives, we have been unable to identify a path forward for the business in its current form."
The planned closure comes just 16 months after San Francisco-based Embark went public through a SPAC merger at a target initial market capitalization of $5.16 billion. Even by the bubblier market conditions of the time, the deal set an astounding valuation for a pre-revenue company, with backers touting its "sophisticated self-driving software," built to navigate trucks on long-distance freight trips…." Read more Hmmmm. Driverless trucking is proving to be enormously difficult and there doesn't seem to be a very strong ADAS play that offers some near-term revenue to these independent start-ups. ADAS is being done internally by the Class 8 OEMs Not much left for the startups. I hope one or two survive…. Aurora, Robotic Research, Gatik, ??? Alain

U.S. opens probe into Amazon's Zoox robotaxi self-certification
D. Shepardsonm March 6, "A U.S. auto safety regulator said on Monday it is opening a probe into the self-certification by Zoox, Amazon Inc's (AMZN.O) self-driving vehicle unit, in 2022 of a robotaxi without traditional driving controls.
The National Highway Traffic Safety Administration (NHTSA) sets the requirements for such vehicles and a company then develops its own process to prove that they meet the requirements. In September the NHTSA had directed Zoox to answer questions about its basis for certifying its vehicle, and that review is ongoing.
NHTSA said Monday it is opening an audit query to determine whether the Zoox "certification basis depended upon unilaterally developed test procedures or determinations that certain standards were inapplicable due to the unique configuration of the vehicle."…" Read more Hmmmm. As I've mentioned previously, NHTSA needs to augment its agency objective to include mobility as well as safety; else, why should they say yes to any innovation. Alain

Founders of Ford's Defunct Argo Launch New Self-Driving Startup
D. Welchm March 6, "The founders of Argo AI, the autonomous vehicle company that was shut down last year, are launching a new self-driving business that could specialize in trucking and ride-hailing, according to people familiar with the matter.
The venture by Bryan Salesky and Pete Rander will be backed by an investment from a company that approached them about starting a full-scale AV firm, the people said. The identity of the backer wasn't immediately clear, but the people said it's not an automaker…." Read more Hmmmm. Nice. I wish you all the best. Alain

Ford is boosting Mustang Mach-E and F-150 Lightning production to cement status as No. 2 EV seller
A. Hawkins, March 3, "Ford is enjoying its newfound status as the No. 2 seller of electric vehicles in the US. In the interest of maintaining it, the automaker is boosting production of its lineup of plug-in vehicles, including the Mustang Mach-E, F-150 Lightning, and E-Transit.
Ford started accelerating production of Mustang Mach-Es this week, making changes at its factory that will enable it to double its hourly assembly and bring its annual manufacturing run rate to a targeted 210,000 units by the end of 2023. Ford also announced it would slash prices on the Mustang Mach-E after the No. 1 EV seller, Tesla, also reduced its prices.
This represents the second time that Ford has said it would boost production of the Mustang Mach-E this year. Last January, the company said it would open up new space in its factory and add new equipment in an effort to increase production to 130,000 vehicles annually from a previous target of 78,000…" Read more Hmmmm….. Nice. Alain

Is BYD Slipping in China After Tesla Price Cuts?
R. Maurer, March 7, "➤ ➤ Analyzing insured vehicle and sales numbers after the first two months of the quarter for Tesla and BYD ➤ Fed's Powell comments on rates ➤ FSD Beta v11.3.1 appears to begin rollout ➤ New comments on Giga Mexico timeline ➤ Giga Berlin update ➤ Musk comments on Tesla, Twitter, SpaceX at conference ➤ Rivian plans debt offering " Read more Hmmmm. View from the plus side. Interest rates are becoming a challenge.. Alain
---

Fridays 12:00-13:00 Boston Time Open to the public
Registration: https://mit.zoom.us/meeting/register/tJIoduytqDsiE9ZKHfZ9Mf1hHIzSCx-TxIEq
Hosted by Prof. Jinhua Zhao
AGENDA

Feb 17 Alain Kornhauser "Envisioning Profitable Autonomous Transit Networks "
Feb 24 Hani Mahmassani "Telemobility, hybrid work and the next normal"
March 3 Liz Renold and David Mindell "Tectonic shifts in science, technology, and industrial policy: looking ahead"
March 10 Juan de Dios Ortuzar "Modelling Sustainable Options – the importance of habit and perceptions"
March 17 Robin Chase "The case against transportation policy priority one being electrified personal cars"
…
***

Save the Date:
6th Annual Princeton SmartDrivingCar Summit:
Monday Evening, May 22 -> Wednesday 5pm, May 24, 2023
***

TRB Automated Transportation Symposium
***
Bridging Transportation Researchers (BTR) Conference
Paper Submission deadline: April 30
August. 9 & 10
On-line Conference
*******************************