SmartDrivingCar.com/11.39-What's the Message??-10/10/23
39th edition of the 11th year of SmartDrivingCars eLetter
<![if !vml]>

<![endif]> Meet Waymo One: The ideal third wheel for your first date.
Staff, Oct 7, "…" Read more Hmmmm… Is this The Onion? No, it's not funny! … Talk about taking the low road against your competition and being clueless about the real value of what you've spent billions creating. This is so deeply bad in so many ways. What are we to understand? That Uber and Lyft hire creepy drivers? That the value proposition of Waymo is riders' privacy to hookup in the backseat? WHAT? Astonishingly tone deaf. Waymo needs to rethink their entire public relations department and just have Ellie Casson do it. She was absolutely great at IATR/Scottsdale. And nothing could be worse than this ad. Alain
************
SmartDrivingCars ZoomCast 338 / PodCast 338 Waymo, Costs of Car Ownership, Tesla, Lyft and more
F. Fishkin, Oct. 10, "What was Waymo thinking with a post about Waymo One and first dates? Princeton's Alain Kornhauser on that plus the costs of car ownership, Tesla, Lyft, Zeeker and more. Join Alain and co-host Fred Fishkin for episode 338 of Smart Driving Cars.
0:00 open
0:30 Middle East and Princeton Professor and former ambassador Daniel Kurtzer's comments.
3:16 Waymo post on Waymo One-Ideal for first dates
5:46 How the costs of car ownership add up
8:28 Tesla Cybertruck tows SpaceX Raptor
10:05 Why Electric Cars failed 100 years ago
12:20 Elektrek tests Waymo in SF
16:50 Lyft CEO-Big tech made America lonely
19:43 Vault Robotics van to door delivery
23:05 Waymo Zeeker
25:30 Tesla autopilot fatal crash in Florida
36:10 Waymo expands service in SF
************

The Outbreak of War In Israel- A Geopolitical Update
Oct. 9, Princeton Professor Daniel C. Kurtzer, former US Ambassador to Egypt & Israel giving a thoughtful and timely lecture last evening on the war in Israel. Read more Hmmmm… This was the best and most sobering lecture that I have witnessed in many years. I also highly recommend watching his lecture given nine years ago: Ambassador Daniel C. Kurtzer – Pathways to Peace: America and the Arab-Israeli Conflict. Alain
<![if !vml]>

<![endif]>How the Costs of Car Ownership Add Up
L. DePillis, Oct 6, "Pandemic disruptions drove the expenses associated with owning a car through the roof, creating a financial burden that many drivers didn't bargain for.
For millions of Americans, cars are a necessity — to get to work, to carry children around, to buy food. In recent memory, they've also never been as expensive to own.
According to AAA, the average annual cost in the first five years of new-car ownership rose to $12,182 this year, from $10,728 last year, reflecting increased purchase prices, maintenance costs and finance charges. That's 16 percent of the median household income, before taxes. (The figure includes depreciation.)
What does that look like in the aggregate? About 92 percent of households have at least one car available to them, and 22 percent have at least three. That comes out to about 223 million personal vehicles, and trillions of dollars a year in spending. By contrast, only $79 billion was spent on public transportation in 2019 for both capital and operating expenses.
On a personal level, America's dependence on automobiles means hefty bills, the risk of dangerous crashes and stress. And now, even with strong wage growth and elevated savings in recent years, high sticker prices and escalating interest rates are starting to take a toll: The share of borrowers moving into delinquency jumped sharply in late 2022 and early 2023. Personal vehicles often become workers' largest expense, on a par with housing, child care and food.
To understand how car owners are coping, we asked five of them to lay out the expenses associated with their cars. They're a lot higher than people sometimes bargain for. For most, there is no alternative…." Read more Hmmmm… That's where autonomousTaxis come in, if they are focused on giving rides for those who need rides who can't drive themselves and aren't already well-served by walking, biking or existing public transit. Coming soon…
<![if !vml]>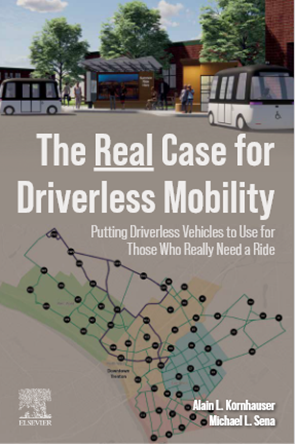 <![endif]> Alain

WAI Plus: Tesla Cybertruck tows HUGE SpaceX Raptor at Starbase!
WAI, Oct. 4, "Tesla Cybertruck tows HUGE SpaceX Raptor at Starbase! Ship 25 is prepared for yet another destack! …."Read more Hmmmm… Really Cool! Alain
Why Electric Cars Failed 100 Years Ago
Fully Charged Show, Oct. 4, "Robert and Jack spend the day with a staggeringly clean example of one of the very earliest electric cars: A 1901 Waverly Model 22. Built at a time when EVs outnumbered ICE cars, it is an incredible insight into the genesis of the electric car – but what happened? Why didn't EVs catch on the first time around? Bobby and Jack go for a (very slow) drive to try to find out.! ….
00:00 Intro 1:15 Meet the Waverly Model 22 4:10 Exterior walkaround 7:31 How does it work? 9:38 Battery swapping before it was cool 11:35 A (very slow) drive 13:22 Close call… 14:11 What happened to early EVs? 16:53 Lessons learned?" Read more Hmmmm… Absorbing and interesting. I guess it's always been about range! Alain

We tested Waymo's driverless taxi in LA in the perfect chaos of Venice Beach
J. Dow, Oct 8, "Waymo's completely driverless taxi is coming to Los Angeles, and will be open to the public starting this week. We got an advance ride in these self-driving electric cars and a sense of what this level 4 system can do in one of the more chaotic driving situations in a city full of chaotic driving situations: a Santa Monica and Venice Beach weekend…." Read more Hmmmm… Jump to Electrek's Take, which is that of someone who currently has good mobility options and rarely has not gone someplace because he couldn't get a ride. While the ride was very good, this supposedly disruptive means of mobility was at best a novelty. Do those with fiduciary responsibility at Alphabet really believe that the Santa Monica & Venice Beaches of the world are the sweet spot for a "proof-of-market"?
Would Schumpeter find Electrek's Take a disruptive leading indicator? Where's the Scale? And when, oh, when, will there be serious reporting on and evaluation of self-driving's potential to transform the lives of people with more limited options than the Jameson Dow's of the world? At least he was upfront in admitting that he took this ride as "a fun day out." And he provided in-depth and fair reporting of the experience deliberately attempting to stymie the vehicle's capabilities in Venice on a weekend. Jameson: PLEASE now consider researching how driverless vehicles might improve the lives of people who do not/cannot afford to own a car and who need to get to work, the doctor, get their child to school, etc. Alain

Big Tech made America lonely
D. Risher, Oct 10, "Technology is making staying home more convenient, more enjoyable, and more compelling than ever. Why go to the trouble of heading to the mall when you can get almost anything shipped to your house overnight? Why go out to eat when you can get anything delivered with the push of a button? Why go to the movie theater when you can access almost the entire history of film from the comfort of your own couch — and make your own popcorn to boot?
As the CEO of Lyft, I'm fully aware of how easy these tech tools make it to close ourselves off from the world. But the decision to stay sedentary comes at a cost. Human beings have a deep need to connect with one another — everyday encounters with a neighbor, barista, or fellow commuter can help people feel happier and connect them to their community. When we forgo these casual interactions, we suffer consequences. In fact, US Surgeon General Vivek Murthy has declared the level of self-reported loneliness a major health crisis and compared the effects of social isolation to smoking up to 15 cigarettes a day. …." Read more Hmmmm… Walking a short distance to a kiosks, interacting with one's neighbors on the way, and then sharing rides in autonomousTaxis would help! Alain

Vault Robotics Van-to-Door Package Delivery and Multi-Robot Van-to-Door Delivery Animation Loop
R. Shi'21, *22, Oct. 7, "This 3D animation demonstrates the capabilities of the Vault Robotics autonomous Delivery Robot. The van-to-door delivery scheme utilizes preexisting delivery vehicles and our new delivery robots to increase overall last-mile delivery efficiency by specifically addressing the last 50 feet. This approach is a principled first step toward delivery automation, with a low barrier to deployment. It builds on top of existing infrastructure such as delivery vehicles and route optimization algorithms." Read more Hmmmm…. Robert, very interesting. I'm so proud of you. Bern, thank you for pitching in and helping Robert. 😁 Alain

Waymo-Zeekr robotaxi poised for US testing by end of 2023
R. Liao, Oct 9, "Nearly two years after Waymo and Geely struck a deal to develop robotaxis for the U.S. market, we are seeing concrete progress in the collaboration.
According to a job post on LinkedIn, Zeekr, the young electric car brand started by Chinese auto giant Geely, is hiring a logistics manager in the U.S. A spokesperson for Zeekr confirmed to TechCrunch that the candidate will work on "the Waymo project and among other things."
Not long ago, Zeekr was also hiring a manager to oversee service operations and repair planning in the U.S.
The robotaxi project is "proceeding as scheduled," said the spokesperson, adding that Zeekr will be "sharing with Waymo the first vehicles for testing" in the U.S. by the end of this year…." Read more Hmmmm… It's hard to imagine how Geely could be Waymo's best vehicle deal? Even an OK one is tough. Can anyone imagine the Waymo Driver being tolerated on any road in China? ????! Alain

The final 11 seconds of a fatal Tesla Autopilot crash
T. Thadani, Oct 6, "The sun had yet to rise in Delray Beach, Fla., when Jeremy Banner flicked on Autopilot. His red Tesla Model 3 sped down the highway at nearly 70 mph, his hands no longer detected on the wheel.
Seconds later, the Tesla plowed into a semi-truck, shearing off its roof as it slid under the truck's trailer. Banner was killed on impact…." Read more Hmmmm… This is very similar to the Joshua Brown crash six years ago. Foot-on- brake more important than hand-om-wheel. Eyes-on-road is really what was missing, but what the heck was the truck doing? And it's trailer did not have a skirt. What is not mentioned in the article is that none of the "level 2" systems can accurately measure the clearance under overpasses ahead. Or tree canopies ahead or overhead signs ahead, overhead wires ahead, or….
Thus, if there is some gap under a stationary object ahead, these systems assume that there is enough room to pass under them; else, the car that they are following ahead would slow down and stop. So, the algorithms ignore the detected stationary object ahead. All will be good
But, if there is no car or truck ahead to follow….surely this blockage in the lane ahead, if real, would be in my HD map database.. No.!?.!? It must be a false positive; and we can't erroneously alert the driver or begin to slow down causing him to tuen off the system or return the car to the showroom claiming it's a lemon; therefore, ignore it, I must be able to pass underneath it… whoops!! Devastating. Alain
New Tesla Advertisement, Analyst Updates, Energy Project Opens
R. Mauer, Oct. 10, " ➤ Tesla appears to begin new advertisement ➤ Analyst updates ➤ New Tesla energy storage project ➤ Tesla comments on Giga Berlin conditions ➤ China insured vehicle numbers ➤ More V4 Supercharger installations ➤ Unifor and GM reach tentative agreement ➤ Toyota and LG announce battery agreement ➤ Renault plans investor day for EV business Read more Hmmmm…. Somewhat interesting;. 😁 Alain

Waymo's robotaxi service is now available to tens of thousands of people in San Francisco
Andrew Hawkins, Oct. 10, " Waymo is opening up its robotaxi service in San Francisco to tens of thousands of people across 47 square miles of the city — a significant expansion of the company's driverless ridehail operations.
Last August, Waymo and its driverless rivals won approval from California regulators to operate their commercial service 24/7. The vote was a significant win for the tech industry, which has been battling criticism that its robot cars occasionally obstruct emergency vehicles and cause traffic jams.
Growing the number of people who want to pay Waymo for trips is incredibly important for the company, which spent at least $1.1 billion on autonomous vehicles between 2009 and 2015 — a figure that has assuredly grown exponentially in the proceeding years. Waymo will need to increase its revenue significantly if it hopes to turn autonomous vehicles into the profitable business that tech prognosticators have been promising for years.…." Read more Hmmmm… Great, and a substantially better post on X. Alain

We test drove the new Mercedes autonomous 'Drive Pilot' system. See what happened.
P. Valdes-DApena, Oct. 10, " Some drivers of a new Mercedes-Benz S-Class or EQS will be able to take advantage of Mercedes-Benz's latest self-driving mode it's calling "Drive Pilot." But as CNN's Peter Valdes-Dapena reports, the technology has a number of limitations.". Read more Hmmmm…. Some limitations is an understatement. I recognize that it is a start at "Level 3", but it's just another toy for the top 1%er. A proof-of-technology under very restricted condition with no chance of succeeding as a proof-of-market. I hope Daimler will be pleased with having loss-leader marketing write off this R & D expense. Alain
*****

********************