SmartDrivingCar.com/11.41-ComingTogether-10/20/23
41st edition of the 11th year of SmartDrivingCars eLetter

For Bill Ford, 'Every Negotiation Is a Roller Coaster'
N. Boudette, Oct. 18, "As a 25-year-old junior executive at the car company that bears his last name, William Clay Ford Jr '79. had a bracing introduction to labor negotiations when a union official demanded that he stand up and vouch that he was made of the same stuff as his great-grandfather Henry Ford.
Mr. Ford, now the company's executive chair, harked back to the moment in an interview this week about how he and his company are navigating one of their most difficult labor negotiations in decades.
In a speech this week, Mr. Ford said the strikes were helping nonunion automakers like Tesla, Toyota and Honda. Mr. Fain responded that workers at those companies were future U.A.W. members.
In an interview after his speech, Mr. Ford said he had been counseling his executives not to let Mr. Fain's words get to them and focus on getting a deal done. Mr. Ford also recalled his first difficult conversation with a union official.
In 1982, Mr. Ford said, his father invited him to sit in the room for talks with the U.A.W. As a newcomer, he was not allotted a seat at a table where about 50 union negotiators sat on one side and an equal number of Ford executives on the other.
Sitting against the wall, he was approached by an older union representative. "You, stand up," the man said. "What are you made of? I knew your great-grandfather and your grandfather. I knew what they were made of. What the hell are you made of?"
Mr. Ford said he had replied sheepishly that he had never known his great-grandfather and grandfather but that he shared their values. Similar confrontations followed daily — "I lived in terror of going to work," Mr. Ford said.
Then about a week later, the union officials invited him to a local bar. "Come with us," Mr. Ford said they had told him. "You passed the test."…
Have you been involved in any talks that are comparable to the current negotiations?
No, but every negotiation is different, and every leader is different. What I keep saying to our executives is: 'Don't take this personally. A lot of it is theater. The most important thing is get the deal done. The rhetoric doesn't matter.' Every negotiation is a roller coaster. Some are not pleasant, and some sting. Don't overreact. And when it's all over, we are still one team again, and have to go forward.
Are you going to be on the same team at the end of these talks?
I believe we will. I know many on their negotiating team personally, and some of them, I play hockey with them and consider them very close friends.
You've said the real competition is not U.A.W. vs. Ford but the U.A.W. and Ford against Toyota, Honda, Tesla and the Chinese automakers. Do you think the union's leadership agrees with that?
I hope so, because if they don't, it will be catastrophic. They can have disagreements with us and bargain hard, but we are not the enemy. I will never consider our employees the enemy. I think the employees know who the real competition is, and they will come together with us when this is over. We made a conscious decision to add jobs here in America when our competitors were moving production to Mexico…." Read more Hmmmm…. I hope Bill invited Will Ford '14 to sit/stand in the room. I'm sure he also plays hockey with U.A.W. members J Hopefully, both sides can come together and keep the US mobility industry strong. We need you. Alain
************
<![if !vml]>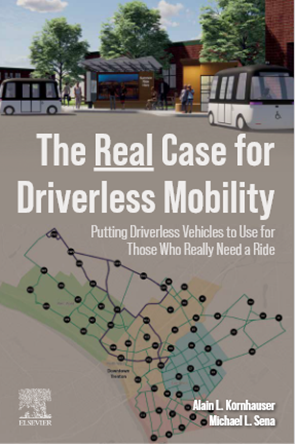 <![endif]> SmartDrivingCars ZoomCast 340 / PodCast 340 w/ Michael Sena, Dispatch Central – November 2023.. Critical Materials as Competitive Weapons
F. Fishkin, Oct. 19, "What has China done to Swedish EV battery maker Northvolt AB? "The Dispatcher" publisher Michael Sena joins Alain and Fred for episode 340 of Smart Driving Cars. Plus…robotaxi travails in San Francisco, Honda plans robotaxis in Tokyo with GM and Cruise, Amazon delivering drugs by drone, Xpeng, Tesla and more.
0:00 open
1:15 upcoming book The Real Case for Driverless Mobility
3:10 Critical materials as competitive weapons
7:24 Sweden cuts power to first electric road
21:48 Back on the elevator
24:09 Funding public transport isn't working
32:00 Michael looks at robotaxi travails in San Francisco
46:25 Honda will start 2026 robotaxi service with GM Cruise and Origin vehicle
54:30 Amazon announces first drone deliveries of prescription drugs
1:02:49 Tesla earnings disappoint investors
1:14:20 Will Xpeng beat out Waymo and Cruise in robotaxis?
1:17:58 Smart Driving Cars Summit returns in 2024
************
Dispatch Central Critical materials as competitive weapons
M. Sena, Oct 12, "WHEN YOU ARE dealing with a competitor that has a stated policy of complete domination of your market, you should be prepared for that competitor to use whatever powers it has at its disposal to put you out of business. If that competitor happens to be a country
with 20% of the global population, produces at least half of every consumer product that is consumed in the world, and controls almost all of the raw materials you need to produce your product, you might reckon that your chances of staying in business are close to zero. That's the position that Swedish electric car battery producer, NORTHVOLT AB, finds itself in. This was the topic of an article in the June 22nd issue of THE ECONOMIST, and it was then the subject of an editorial in Sweden's major newspaper, DAGENS NYHETER. The country and competitor is CHINA, INC…" Read more Hmmmm…. As always, very informative and very well written. Enjoy. 😁 Alain

Cruise robotaxis are headed to Japan
D. Ruddock, Oct 19, "A press release from Cruise, GM, and Honda says that the three companies plan to launch a robotaxi joint venture in Japan starting in 2026. No word if the vehicles will play charming little MIDI tunes when they pick you up, but we can dream.
According to the statement, the yet-to-launch Origin — a dedicated-purpose robotaxi — will be the vehicle that debuts the service. Given the complexities of operating as a foreign business in Japan, it's not exactly surprising that the three plan to start a new JV company in the market, one that will presumably be tailored and branded to the expectations of Japanese consumers.
As you're likely aware, Japan operates some of the highest-throughput mass transit systems in the world. But at street level in a dense urban area, chances are most of the cars you'll see driving around fall into one of two categories: taxis and commercial vehicles. Private car ownership is expensive and impractical in major Japanese cities for most residents, and taxis make up a critical part of mobility — whether last-mile or as transit to hubs like airports and train stations.
Ride-hailing services like Uber have struggled mightily to break into the Japanese market, both because of legal complexities and an extremely powerful domestic taxi lobby. While a venture like Cruise's would be unlikely to offer major disruption at scale initially, there's little doubt the aforementioned taxi lobby will try to derail any effort at autonomous rides. Today's press release doesn't get into any of the legal or practical hurdles — it's just a statement that GM, Cruise, and Honda want to go forward with this.….´ Read more Hmmmm… Unbelievable. Even Electrek's take is an eye roll. Plus, Japan is now in line ahead of New Jersey. Does NJ really look that bad as compared to the rest of the world? I know that Manhattan has given us an inferiority complex, but C'mon man. So depressing! Alain

Waymo & Cruise Growing, But Is XPeng Going To Take The Robotaxi Lead?
Z. Shahan, Oct 18, "Waymo and Cruise have been growing incrementally, especially in San Francisco, where they've been given the opportunity to operate 24/7 across the city. However, there was a potential robotaxi story outside of the US recently that caught my attention more than any other.
Let's start with Waymo, though. After getting permission to expand in San Francisco and run day and night there, downloads of the Waymo app (and Cruise app) surged. Here's the data:…Unbelievable! Download of Apps is now the measure of the market success of Robotaxis. And I thought that all the investment was made in order to give people rides. Whatever!.….
As you can see from the headline, I'm talking about XPeng. I experience XPeng's self-driving capabilities live but virtually several months ago, and it seemed perfect. Naturally, it's not 100% perfect yet, but I'm very bullish on it. Interestingly, the company recently acquired Didi's EV unit. Didi is a super popular ridesharing service in China. With XPeng's acquisition of Didi's electric car development arm (valued at about $744 million), the Chinese EV startup will supply Didi with a pipeline of vehicles for its ride-hailing service. There's no claim these will be robotaxis, but my goodness, I expect they will be eventually (and perhaps eventually is not too far away) and I can see the volume rising rapidly. China moves fast when tech is ready, and it has much in place to facilitate and grow the robotaxi industry…."
Read more Hmmmm… Is this a paid placement in "Sunday Supplement", click-bait or what? Moreover, what is the race that XPeng is going to lead? Waymo&Cruise are trying to give rides in one market and XPeng (I assume) is trying to give rides in another very different market. There is no way that Waymo&Cruise will be able to give rides in XPeng's market and visa versa any time soon. Enough said. Alain

From A to B Longer Commutes, Shorter Lives
D. Leonhardt, Oct 19, "
The next time you take a trip within the U.S., I encourage you to try a thought experiment: Imagine how long the same trip might have taken a half-century ago. Chances are, it would have taken less time than it does today.
The scheduled flight time between Los Angeles and New York, for example, has become about 30 minutes longer. Aviation technology has not advanced in ways that speed the trip, and the skies have become so crowded that pilots reroute planes to avoid traffic. Nearly every other part of the trip also lasts longer than it would have a few decades ago, thanks to traffic on the roads and airport security. All told, a cross-country trip could take a few more hours today than it would have in the 1970s.
Shorter trips also take more time. Auto traffic in almost every metro area has worsened, and the country has done little to improve its rail network. In 1969, Metroliner trains made two-and-a-half-hour, nonstop trips between Washington and New York. Today, there are no nonstop trains on that route, and the fastest trip, on Acela trains, takes about 20 minutes longer than the Metroliner once did…
Why is it more difficult to get around the U.S.? Above all, it's because our society has stopped investing in the future as we once did…." Read more Hmmmm… I'm not sure I agree. The private sector has invested upwards of $300B in SmartDrivingCars in the last 10 years. With that amount of investment, we should have been able to substantially improve how to get from A to B for those who really need a ride. Unfortunately, the focus of the investment has been to improve the getting from A to B for those that already have darn good ways of getting from A to B. Look at this article. It doesn't hint at the challenges of those who need a ride, only those who can readily give themselves a ride. What a shame. Alain

Honda made an airport robot to handle all the boring, repetitive tasks
Andrew Hawkins, Oct 17, " Honda's latest robot is an autonomous work vehicle (AWV) designed to handle all the boring, repetitive tasks at airports. It's also meant to demonstrate that autonomous vehicles can have other purposes that don't involve jamming up city streets or obstructing emergency vehicles.
The company is sending its first prototype to the Toronto Pearson Airport as part of a demonstration of how AI, robotics, and autonomous vehicle technology can help address many of the challenges facing airports, including labor shortages, safety, and emissions. The work vehicle was first introduced as a concept by Honda at CES in 2018 and is now being put to use.….´ Read more Hmmmm… Very interesting.
<![if !vml]>

<![endif]>
Tesla Q3 2023 Financial Results and Q&A Webcast (Audio only)
Staff, Oct. 18, "Transcript.. 5:11 good afternoon everyone and welcome to Tesla's third quarter 2023 Q&A webcast…" Read more Hmmmm… FYI. Many comments about RoboTaxis. Alain
Tesla Q3 Earnings Call 2023 (TSLA)
R. Mauer, Oct. 18, " Listen to Elon Musk and Tesla management discuss Tesla's Q3 2023 financial results and answer questions from investors and analysts. Join Rob Maurer of Tesla Daily for a live blog highlighting key information, followed by reaction to the call and earnings report. For reaction to Tesla's shareholder letter and earnings report: https://youtube.com/live/fimcnHZJ_B4
0:00 Elon Musk opening comments
6:21 CFO Vaibhav Taneja opening comments
9:21 Investor questions
25:44 Analyst questions
28:36 Tesla audio drops
29:23 Analyst questions (cont'd)
1:00:41 Reaction to call Read more Hmmmm…. Robotaxi comment FYI Alain
New Performance Model 3 Info, Toyota Joins NACS, Tesla Earning
R. Mauer, Oct. 19, " ➤ New details on possible performance version on Model 3 Highland ➤ Analysts react to Tesla earnings ➤ Toyota announces intent to adopt NACS ➤ Tesla battery engineer departs ➤ Earnings follow-ups
0:00 Intro / TSLA
0:50 Analyst updates
2:23 Earnings call update
4:19 Toyota adopts NACS
6:27 Performance Model 3 details
8:43 Tesla DBE engineer leaves
9:52 More earnings discussion
Read more Hmmmm…. FYI Alain

Tesla (TSLA) tumbles after disastrous Elon Musk conference call
F. Lambert, Oct 19, "Tesla's stock (TSLA) is down by as much as 10% today following the release of the company's earnings and the following disastrous conference call with Elon Musk.
Yesterday, Tesla released its Q3 financial results, and it did miss expectations, but the stock was actually flat following the release – presumably because of the announcement of the Cybertruck delivery event. However, things took a turn for the worse for Tesla's stock after the conference call with Tesla's management.…. ´ Read more Hmmmm… FYI. Alain

Amazon Pharmacy launches its first drone deliveries
Z. Shahan, Oct 18, "Amazon's Prime Air drone service has been slow to take off for the company, with limited operations in just two locales a whole decade after Amazon first started development of the program. Now, Prime Air is getting a small injection of activity, quite literally: Today, Amazon announced the launch of drone deliveries of medicines purchased through Amazon Pharmacy, its online prescription drug store.
Amazon said packages will be dropped by drone within 60 minutes of being ordered via Amazon Pharmacy. …." Read more Hmmmm… Sure, for the real emergency in an emergency situation, maybe. Really hard to envision the scaling of this one-to-many and then back problem. The challenge is more at the pharmacy than at the delivery point. Plus a drone tour is out loaded and back empty. Can't scale Pharmacy from & back. Can't carry through a traveling salesman tour. Alain

Tesla Model 3 Highland First Drive: Making Real Improvement
S. Evans, Oct 16, "Tesla doesn't have a formal communications department, but that doesn't mean it isn't listening to its customers, to reviewers, and to randos on X. The 2024 Tesla Model 3 makes it clear the company paid close attention to what people have said about its cars, took the feedback seriously, and went to work.
Take The Highland
Tesla prefers to make running changes, even big ones, rather than update its cars via traditional model years and formal refreshes, but you can still classify the new Model 3 as a refresh. Known by its internal "Highland" code name, the car's battery and motors are untouched. More surprising, it hasn't adopted the single-piece rear body "gigacasting" of the Model Y. At a mechanical level, it's mostly the same car.
You're forgiven for thinking the same applies to the exterior, but that's not strictly true. According to Tesla, everything but the doors and rear fenders is new. Some of the changes are obvious. The new nose is resolved better than before, looking more like a Tesla Roadster and less like Spider-Man's mask. The foglights are gone and cooling air flows through a single inlet. Out back, Tesla missed the memo on crab-claw taillights going out of style. However, moving them entirely onto the trunklid solves one of Tesla's biggest build quality issues: inconsistent panel gaps that contribute to people having negative impressions of the cars' build quality.…." Read more Hmmmm… FYI. Alain
*****

Economics of Transportation in the 21st Century
Oct. 20, 1:00pm
*********

Conference
San Jose, CA
Nov. 30 -> Dec. 1, 2023
*****

6th SmartDrivingCar
Summit
May 29 (evening) -> May 31, 2024
Princeton, NJ
********************